Archie Comics has a presence in AOL's top 10 list of the "Coolest Cartoon Rockers," with The Archies coming in at No. 3 and Josie and the Pussycats coming it at No. 4.
Here's what the press info says about Arch and the band ...
Coolest Cartoon Rockers: No. 3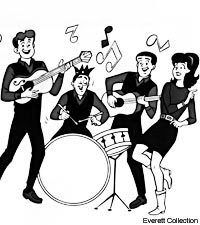 The Archies
When They Rocked: 1968-69

The Archies were the Beatles of virtual bands -- innovators whose sugary hooks and catchy choruses spawned a legion of inferior imitators (The Bedrock Rockers, Jabberjaw). The Riverdale High quintet scored several hits in the late '60s, but 'Sugar, Sugar'-- the No. 1 song of 1969 -- remains the band's claim to fame.

Coolest Cartoon Rockers: No. 4


Josie & the Pussycats
When They Rocked: 1970-74
The Go-Go's, L7 and every other female rock group in history has Josie & the Pussycats to thank for leading the charge. The feline power trio looked adorable, rocked hard and still had time to solve crimes between gigs. A limited-edition CD of the group's songs was released in 2001, shortly after Rachel Leigh Cook donned Josie's ears for a live-action big-screen adaptation.

The complete list, from http://music.aol.com/:
AOL's 10 Coolest Cartoon Rockers
1) The Chipmunks
2) Gorillaz
3) The Archies
4) Josie & the Pussycats
5) Bart Simpson
6) Fat Albert and the Junkyard Gang
7) Dethklok
8) Jem & the Holograms
9) Crazy Frog
10) Faith + 1
Elsewhere in Archie Comics ...
BETTY & VERONICA #229
"Caved In": Veronica is mortified when Betty takes her cave exploring – until she sees the hunky tour guide! Surprises and dangers await in this thrilling tale!
"Childish Pursuits": The boys give Betty and Veronica a hard time over their fondness for the hot new anime series, "Fairy Princess Bluebell."
"Really Gifted": In this touching tale, the girls learn about a catalog where they can purchase clean water, food and other needs for those living in impoverished countries. SCRIPTS: Kathleen Webb. ART: Jeff Shultz.
On sale newsstand August 14, 2007
32-page, full-color comic
$2.25
JUGHEAD & FRIENDS DIGEST #22
"Mission Improbable": With Jughead helping his mother man their booth at the bake sale, do the delicious desserts stand a chance? That's a chance Jughead's Mom would rather not take, so when she has to leave her post, its maximum security lockdown for the cake Jug's had his eyes on. But with a little help from one of Dilton's inventions, Jughead just may take the cake… literally! SCRIPT: George Gladir. ART: Bill Galvan. PLUS: Other new and classic tales! SCRIPT AND ART: Various talents. BONUS: Puzzles, games and your chance to "Find Your Name in Print!"
On sale newsstand August 14, 2007
Full-color digest format
$2.49
VERONICA #182
"The Dream Job(?)": Veronica gets a job interning at Trend Magazine for a very demanding boss reminiscent of a certain Prada-wearing film fatale! SCRIPT AND ART: Dan Parent.
"Madame President": Veronica dreams about becoming President… until Betty fills her in on the facts behind her fantasy! SCRIPT: Barbara and Samantha Slate. ART: Dan Parent.
On sale newsstand August 14, 2007
32-page, full-color comic
$2.25